Print
IMPORTANT UPDATES FOR MEA MEMBERS!
Todd Gloria Swears In MEA's Officers
At MEA's November Board of Directors meeting, Mayor-Elect Todd Gloria administered the oath of office to MEA's new Officers. Mayor-Elect Gloria recognized Greg Woods, Steve Ramirez, Michele Chicarelli, Sam Cerrato and Joe Miesner for their service to their Union and to the City of San Diego. The Officers will now begin a new two-year term (see attached photo):
President – Greg Woods
Greg has served as MEA's President for the past six years. He has extensive experience on MEA's Board, Executive Committee and Negotiating Team, and has served fellow MEA members as a Steward for 28 years. He also chairs MEA's Membership Committee. Greg is a Collections Investigator Supervisor in the Treasurer's Department.
First Vice President – Steve Ramirez
Steve has worked for the City of San Diego for 33 years and currently serves as First Vice President of MEA. Steve has significant service as an MEA Boardmember, Steward and Negotiating Team member, as well as multiple MEA Committees. Steve is a Safety & Training Manager in the Environmental Services Department.
Second Vice President – Michele Chicarelli
Michele recently joined MEA's Officers as Second Vice President. She is a 32-year City of San Diego employee and has previously served her fellow MEA members as an active Steward and Executive Committee member. Michele is an Area Manager 2 in the Parks & Recreation Department.
Treasurer – Sam Cerrato
Sam has served as MEA Treasurer for the last two years. He has been a City of San Diego employee for 21 years and active on MEA's Board of Directors for the last 10 years. He has also served on the Executive Committee, Negotiating Team and Stewards. Sam is a Senior Clerk/Typist in the Library Department.
Secretary – Joe Miesner
Joe has served as MEA's Secretary for the last two years and has been actively involved in MEA's leadership for more than 15 years. Among other roles, he currently serves as Chair of MEA's Political Action Committee. Joe is a Supervising Librarian in the Library Department.
Congratulations to Greg, Steve, Michele, Sam and Joe. Your service is appreciated by all MEA members and your dedication to serving your colleagues at the City of San Diego is remarkable. Thank you for all that you do to make our Union strong and successful!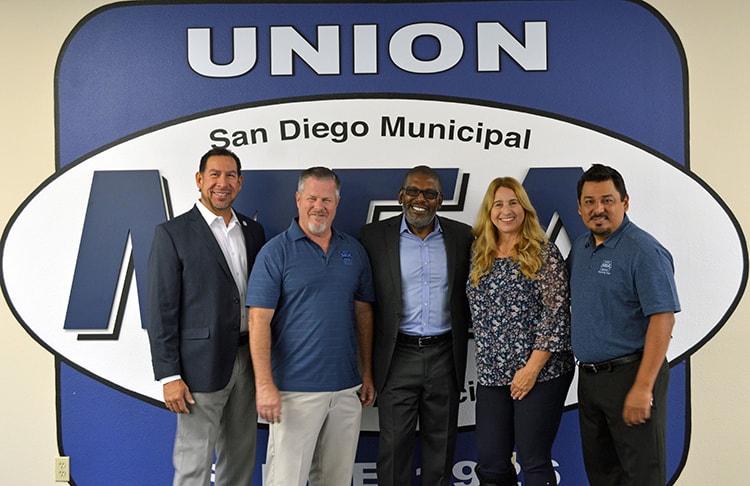 Perfect Election for MEA-Endorsed City Candidates
Mayor-Elect Todd Gloria thanked MEA's Board for our election support and talked about the need to better support City employees through more competitive compensation and working conditions. MEA endorsed Todd's campaign more than a year ago and made significant financial contributions in support of his victory.
MEA did the same in each of the other City races on the ballot in November – five open City Council seats as well as the City Attorney and Mayor's races. In all seven races, MEA endorsed and financially supported the campaign of the winner.
The City now has the most employee-focused and friendly Council we've ever had in San Diego, including two newly elected members who ARE City employees! Both Marni von Wilpert (Council District 5) and Raul Campillo (Council Disctrict 7) currently work in the City Attorney's office as Deputy City Attorneys. Together with the rest of their colleagues, they understand that the City's human capital needs a lot of help, and we look forward to working with them to make progress on that right away. Congratulations also to MEA-endorsed election winners Joe LaCava (Council District 1), Stephen Whitburn (Council District 3), Sean Elo-Rivera (Council District 9) and Mara Elliott (City Attorney).
Holiday Party and Other Popular Events Will Have to Wait Til Next Year 🙁
President and Membership Committee Chair Greg Woods regrets the cancellation of this year's MEA Holiday Party, General Membership meeting and Night at the Padres game. Obviously COVID restrictions have made each of these events impossible to hold in 2020, but we are hopeful that next year we will be able to see each other again at these popular events!
Contract Negotiations Have Begun Again
MEA's Negotiating Team met in November to begin preliminary work on negotiating a new MOU for the fiscal year beginning July 1, 2021. Negotiations with the City will begin in earnest in January after the new Mayor and City Council have been sworn in and give direction to the City's negotiating team. Negotiations will culminate with an agreement (hopefully) or a bargaining impasse in April.
The COVID pandemic upended our negotiations (and everything else in the world) last Spring, but we will be working hard to get the Mayor and Council to focus on the future with negotiations this year. The pay disparity of City of San Diego employees compared to employees in other jurisdictions has to be immediately addressed by the City. The damage done by COVID to the City's budget is most certainly a headwind to getting something significant done this year, but we will demonstrate to the City's leaders why waiting to address employee compensation simply cannot wait any longer. We will keep you posted with any updates as negotiations heat up early next year.
MEA is Here for YOU!
Have a question about anything going on at MEA? Not feeling safe at your workplace? Not getting the support you need from your management? Your MEA representative is here for you. Please don't ever hesitate to give us a call if you need help, have a question or need support in any way. We can be reached at info@sdmea.org or 619-264-6632.
We hope you are staying strong through these challenging and scary times. Hang in there and we hope you are able to enjoy this Holiday season. Please stay safe and be well.